ALL DATES CORRECT AT TIME OF INCLUSION BUT PLEASE CHECK BEFORE SETTING OUT.
EVENTS 2021
Change of Venue
Club night meet at 7.30pm
At the
Bowens Arms. 4 Birchgrove Road Birchgrove Swansea SA7 9JR
Just off J4 of the M4
November 16th
Club night 7.30pm
A.G.M. Night.
December 8th
Club Christmas dinner
This year to be held at The New Garden Restaurant (Chinese)
40/42 Pandy Road Aberkenfig Bridgend CF32 9PP
time 19.15 for 19.30
for more information please contact John Williams
No later than the 16th November
December 21st
Club night 7.30pm
EVENTS 2022
January
Pudding Run
Date to be confirmed
April
100th Anniversary Austin 7 End to End Run
Austin 7 enthusiasts have taken part in 6 End to End runs to celebrate various anniversaries of the Austin 7. To celebrate the 100th anniversary of the Austin 7 a number of people are again planning to drive from one end of the UK to the other John O' Groats to Lands End or Lands End to John O'Groats in 2022.
To make it more special and continue the tradition the South Wales Austin Seven club is organising bumper plates, window stickers, souvenir plaques and framed certificates. Entry fee is £25 per car, all drivers listed on the certificate.
This is a run for the more adventurous Austin 7 owner and a good opportunity to get younger family members involved. Running out of petrol half way up Shap in the rain is guaranteed to create life long memories.
There won't be any booking in tents at either end; people will be required to take a picture of their car at either end and outside the Longbridge gates. The Photos will form part of the certificate in addition to the names of the drivers that took part.
There is no set route or direction (can start at either end or do both), but to help people take a safe approach to the run they need to take longer than 24 hours to complete the end to end run.
The photos must be taken between 1am on Saturday the 9th April 2022 and Midnight on Sunday the 24th April 2022. A 16 day window will make it easier for people to book holiday, take a more scenic route or avoid bad weather.
If you are interested in taking part or have already planned to complete the End to End and fancy certificates please contact Peter Hales at swa7csecretary@gmail.com or visit the Southwalesaustinsevenclub.com website.
This may be the last time it is possible to complete a Joggle/Lejog.
For an application form please click here.
April 16th
Ross-On-Wye Auto Jumble
Livestock Centre HR9 7 QQ
Open to the pubic 9am
April 29th-2nd May
Scottish Austin Seven 51st National rally
May 14-15th
Beaulieu spring auto jumble (Provisional Dates)
May 29th
Bromyard speed festival jubilee run/show
to be held in and around the streets of Bromyard.
More details to follow early 2022
May 24th-8th June
Austin Seven
'Wines & Steins'
Centenary Tour
For more information email Alan Martin on
adlmartin@hotmail.com
July 3rd
Beaulieu 750
July 19th/24th 2022
Centenary rally to celebrate 100 years of the Austin Seven.
The celebrations will be held at
The Fire Service Collage Moreton-in-Marsh
For up to date information click here. www.A7centenary.com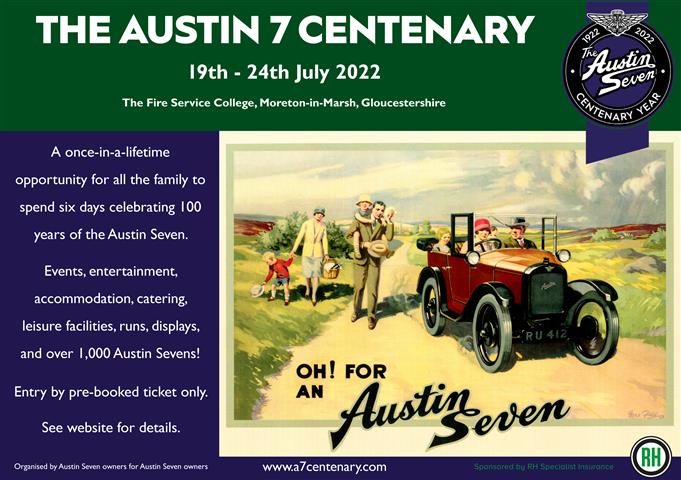 July 23rd
Ross-On-Wye Auto Jumble
Livestock Centre HR9 7 QQ
Open to the pubic 9am
July 29th/30th
Welland steam show
August 21st
Tewkesbury car show
September
Beaulieu auto jumble T.B.C.
September 17th
Ross-On-Wye Auto Jumble
Livestock Centre HR9 7 QQ
Open to the pubic 9am